Meaning of Indoor Digital Signage
From multimedia displays hung from ceilings, flat-panel monitors attached to walls and video walls affixed to lobby entrances, indoor digital signage displays by Wide Area Media catch people's attention. Brightly lit LED and HD screens are now found in corporate conference rooms, event venues, shopping malls, restaurants, bars, libraries, schools, casinos, entertainment outlets and more. Forecasts show strong growth of digital signage for advertising in multiple industries, with the market set to push near 12 million units sold in 2018, an increase from just under 3 million units in 2011. While retail is currently the biggest market for indoor digital signage, there is growth and budget spending across other areas, including healthcare, banking, education, transportation, restaurant chains, casinos, and resorts.
Applications
Useful Features of Indoor Digital Signage include Interactive Touch to display a building directory for guests, web-based interface so you can update bulletins from the office or at home, display training videos in the employee break room or view the local news in the lobby and inform clients and staff of an emergency in seconds with full-screen alerts.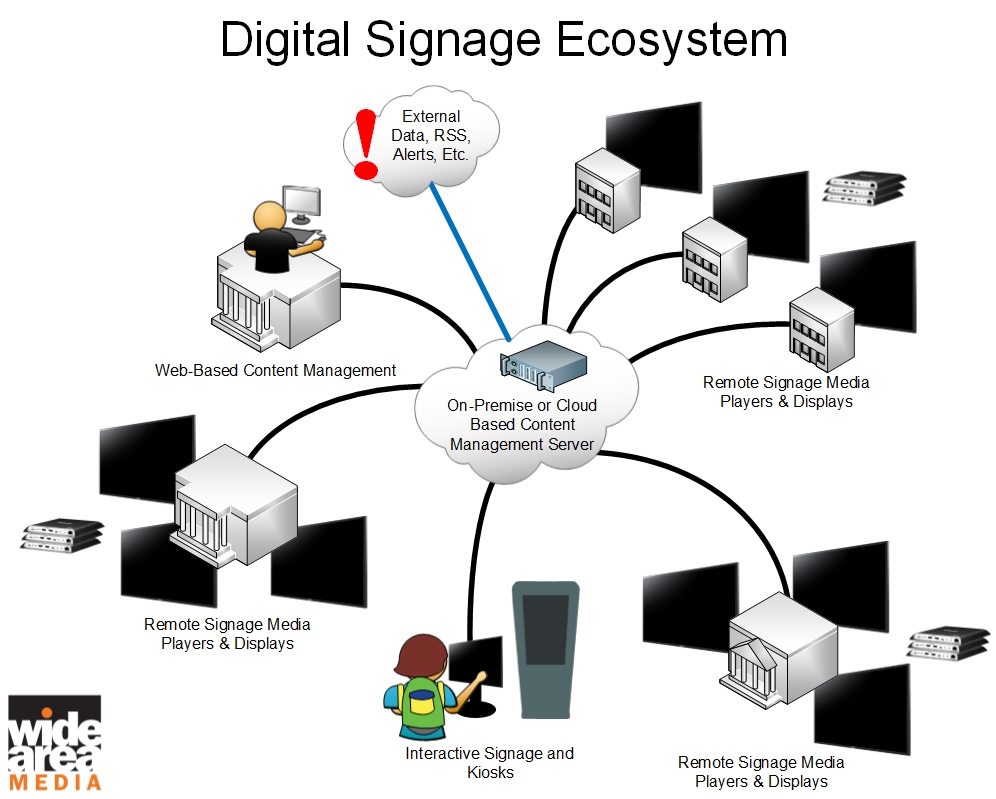 The Value of Indoor Digital Signage
Indoor Digital Signage allows for content to be displayed quicker and more efficiently, while having richer (HD) colors and viewed in a clean, aesthetically pleasing manner. It is expected that in the next few years, growth will be driven by new applications for public displays, digital signage, video walls and electronic menu boards. The most cited benefit of indoor digital signage is to place information anywhere it needs to be updated often automatically through an existing IT network increasing workplace efficiencies by reducing time-consuming micro tasking of personnel who can now be reassigned to less redundant activities. The added benefits to the workplace doesn't just save time and labor, it also increases the effectiveness of communicating, making indoor digital signage a win-win proposition for both managers and consumers.
The Value of Indoor Digital Signage
Our goal at Wide Area Media is to provide the highest quality digital LED displays with State-of-the Art technology for the lowest possible price while providing outstanding customer service. We offer a wide variety of products for every application, large or small. The indoor digital signage products we represent are easy to use, easy to manage, and scales from one display to hundreds. Wide Area Media has provided indoor digital signage services to corporations, educational institutions, municipalities and medical facilities throughout the United States.